COMPLEMENTARY WEDDING PLANNER SOFTWARE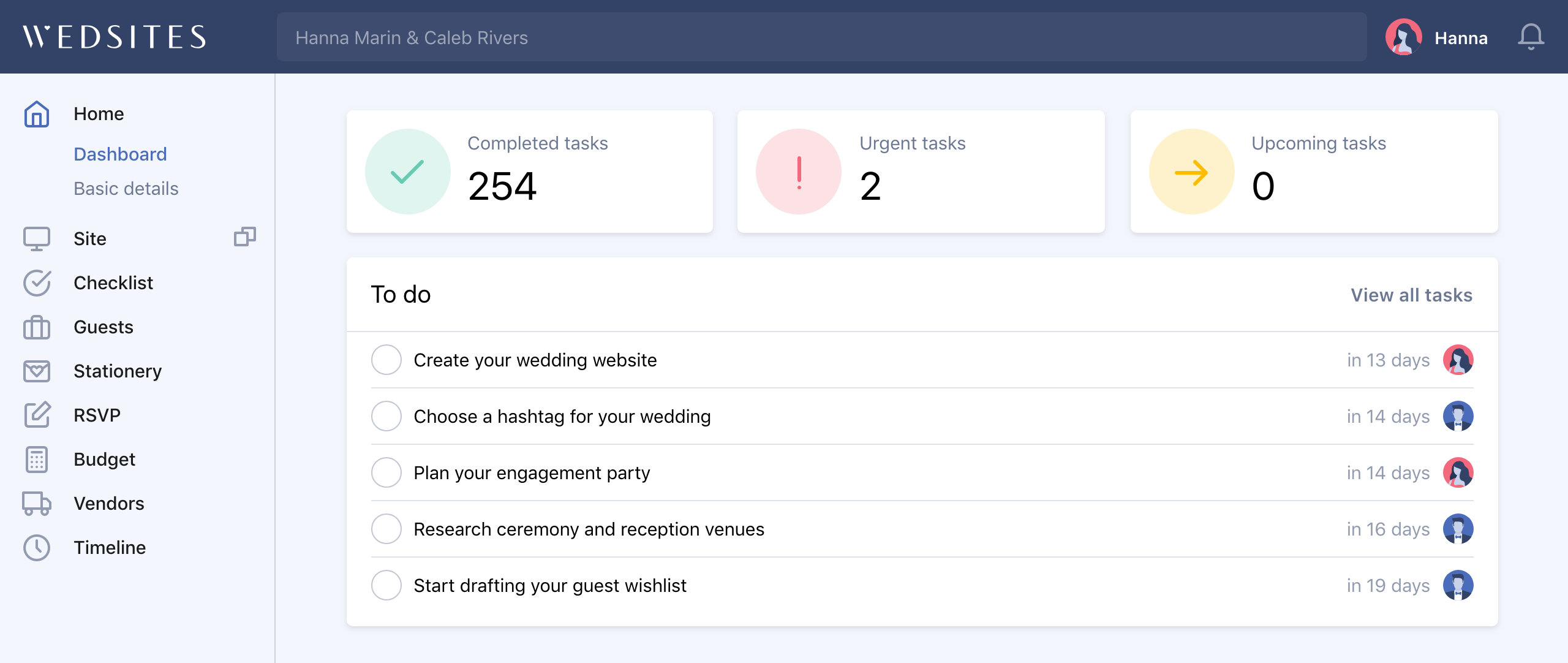 Everything you need to plan a wedding
From setting up a website, capturing online RSVPs, sending paperless save-the-dates and invitations, to keeping you on track with your wedding checklist and vendor payments, WedSites is the planning platform to get you from "yes" to "I do." LA Mirage Venue booking gives you free access to wedistes.com. Your account will be created upon confirming your booking.
WEDDING DASHBOARD
The easy way to plan
Your team of smart wedding planning tools works together to save you time and make your life easier. You can even collaborate with your partner or delegate tasks to your bridal party to keep everyone on the same page and get things done faster!
Checklist with custom deadlines
Database to securely store all guest details
Reminders for upcoming payments
Budget calculator & tracker
Paperless stationery to match your site
Automatic RSVP reminders to guests
Timeline to share with bridal party and vendors
DESIGN YOUR OWN WEBSITE
Your wedding, your way
Show off your personalities and personal style with our easy to use and customizable website templates. We'll give you a good starting point, and you get to make it yours.
DIGITAL STATIONERY
Send out matching invitations
wedsites.com website templates come with matching digital Save the Dates and invitations to keep your wedding look consistent across all touchpoints with guests. Get them to RSVP on your website, and you'll have all their responses neatly placed inside your guest list database.
Features
TOOLKIT
Personalized planning tools
Wedding checklist
Guestlist database
Seating chart maker
Budget calculator
Vendor payment reminders
Timeline generator
WEBSITE
Wedding website builder
Collect online RSVPs
Add your own RSVP questions
Access to all standard templates
Customize your design
Optional password protection
Site visitor analytics
24 months of hosting included
Frequently answered questions
How much does WedSites cost?
You can create an account to use all of wedsite.com planning tools for free. Your LA Mirage Venue booking covers all the above-mentioned features.
WedSites has a lot of features, can I pick and choose the tools I want to use?
Absolutely, while most of their tools sync and work best together, you can pick and choose the tools you want to use.
Can I password protect my website?
Absolutely! We get that you might not want the world to see your wedding website, so you can add a password to protect your website from the public eye. Just remember to share that secret code with your guests so know how to access your site.
How can I share my wedding website?
Most couples share their wedding website on their save the dates and/or invitations, which is the perfect place for guests to find all the details about your event without having to cram it all on your card.
Is there a limit to the number of people I can add to my guest list?
It's your party — invite as many people as you'd like!
How do online RSVPs work?
Glad you asked! Depending on how strict you are with your guest list, our wedding websites can act as your own virtual concierge. If you want to restrict RSVPs to only those on your guest list, we'll make sure of it. If you want to know specific information from your guests, you can create your own RSVP questionnaire form and we will store all their answers inside your guest list database.
Can I create my own questions for RSVPs?
Yes, you sure can! We have a special questionnaire builder so you can create a totally customized RSVP form to ask your guests questions about their dietary preferences, the best piece of marriage advice they've heard, when they'll be flying into the country, to what their favorite songs are!
When should I create my wedding website?
You can start creating your website as early as you'd like, but we recommend having it published by the time you send out your save the dates – around the 8-12 month mark for destination weddings and at least 6 months before for local affairs. You can always make updates to your website even after you hit publish, so even if you just have a wedding date, you can start working on your site and add more details as you figure them out.
Is it possible for one person to RSVP for everyone in their household?
Yes, absolutely. Anyone guest in a given household can RSVP for everyone else.
How can I control who can RSVP on my website?
If you want that extra level of security, you can restrict RSVPs to only those who are on your guest list.
Can I change my wedding website design once I've published it?
Yup! You can always make changes to your website after you've published it, including the design.